On my way to Bangladesh I decided to spend a day in Abu Dhabi after falling in love with Doha.  I had heard they were so similar so I wanted to check it out. Abu Dhabi is a worldwide flight hub and if you are a frequent traveller, chances are you'll be spending a layover there sooner or later. But what should you do in Dubai in one day?
I wasn't sure what I would do either on my way but I have learned some of the best experiences aren't planned they just happen.  I am BEYOND blessed to be traveling with the most amazing men that watch my back...literally...they won't come back alive if I don't and so it creates a very freeing experience when traveling.  On our flight from JFK to Abu Dhabi I went up to a bar area in the plane and asked a flight attendant what he suggested I do when I arrived.  He replied that I should actually be talking to a gentleman that was a passenger as well on the flight. I didn't know who I was speaking to but so blessed I met him! 
He talked me out of going to Abu Dhabi and spending the day in Dubai. So when my partner and I got off the plane I introduced my new friend to him and persuaded him to go to Dubai instead.  What a day we had!!!  Here are a few things that I highly suggest!
The first thing you can do to make the most out of your layover in Dubai is extend it if at all possible. lol.. Depending on your final destination, Emirates allows you to choose between different layover times.
Whenever possible, be smart about choosing the one that allows you for a decent layover during the day. 
We booked a flight that landed in Dubai around 8am while our next flight to Sri Lanka was only at 11pm. We did this on purpose so that we could have the maximum of day hours as possible. Even counting with airport times, this gave us a good 12 hours to explore the city.
Why fly Emirates
I'll be definitely flying Emirates more. It's probably my favorite airline, even more than Qatar. The benefits of choosing Emirates are many:
140+ destinations worldwide and a gateway to Asia
In-flight entertainment is top-notch
The food is delicious
You get to explore Dubai on a layover which is awesome!
Check flight prices.
Getting to Dubai center from the airport
Between the long immigration queue (see tip below!) and the gigantic halls and corridors, we only got really out of the airport at least one hour later.
The most inexpensive way to get to Dubai city center is by metro, conveniently sit just outside the airport.
The interesting thing is that Dubai metro has two types of tickets: normal and VIP. Yes. For a bit more extra money, you can travel on the first carriage with glass ceilings for a better view of the sky scrapers of the city. We were on a tight budget and skipped this fancy feature, but that's really up to you.
Oh and did I mention the carriages exclusively for women?
Pro Tip: Don't lose time in the Dubai airport!
Chances are you will arrive to Dubai after a long-haul flight and with limited time to get to know the city. So the LAST thing you want is to lose time in an immigration queue like we did, right?
I wish we had known about UAE Smart Gates before. These gates automatically check your passport. No need for queing. Check the list of passports that apply here.
Look Up. No I Mean Waay Up
Burj Khalifa was the the sight we're looking forward to the most.
As the highest building of the world – at least while Kingdom Tower in Jeddah is not finished – Burj Khalifa really makes an impression. It is an engineering delight and it manages to stands out in the busy Dubai skyline.
Nothing really describes the feeling of looking up when you're right next to it. Man, that's high.
Oh and once you're in downtown, you can crouch as much as you can but it will be very hard to fit the whole building in your photos. Well, unless you've got a wide-angle
GoPro
.
Worth Going Up Burj Khalifa – Yes Or No?
We debated this one for a long time only because we walked 3 miles before actually getting close to it. On one hand it's not everyday that you can experience amazing views on the highest building in the world. I mean, it does not get higher than this.
On the other hand, we've heard the queue to get in to the Observation Deck might be a huge time waster. We however pushed forward and both being more of the determined type decided we HAD to see it since we were having issues getting there.  lol.  The line was short and we got right in! 
Go Shopping… Or At Least Pretend To!
Dubai is widely known for its enormous malls and no visit is complete without at least contemplating how over-the-top they can be. I mean, the Portuguese have a thing for big malls, but this is a WHOLE. ANOTHER. LEVEL.
There's this huge aquarium in Dubai Mall where you can walk in an underwater tunnel right next to sharks or stingrays.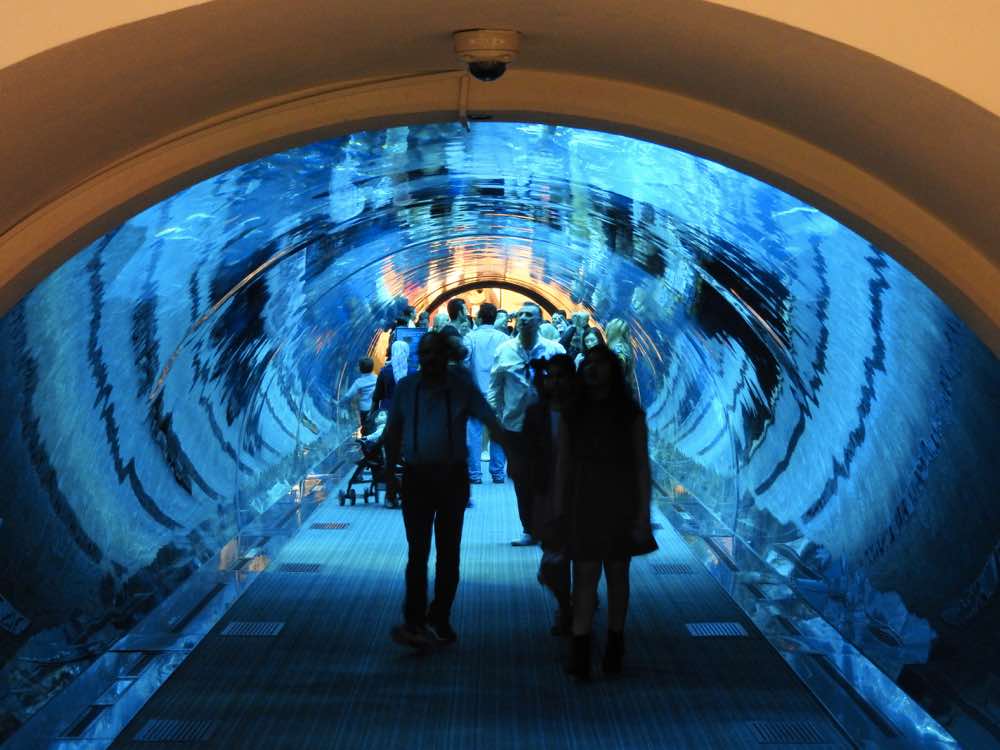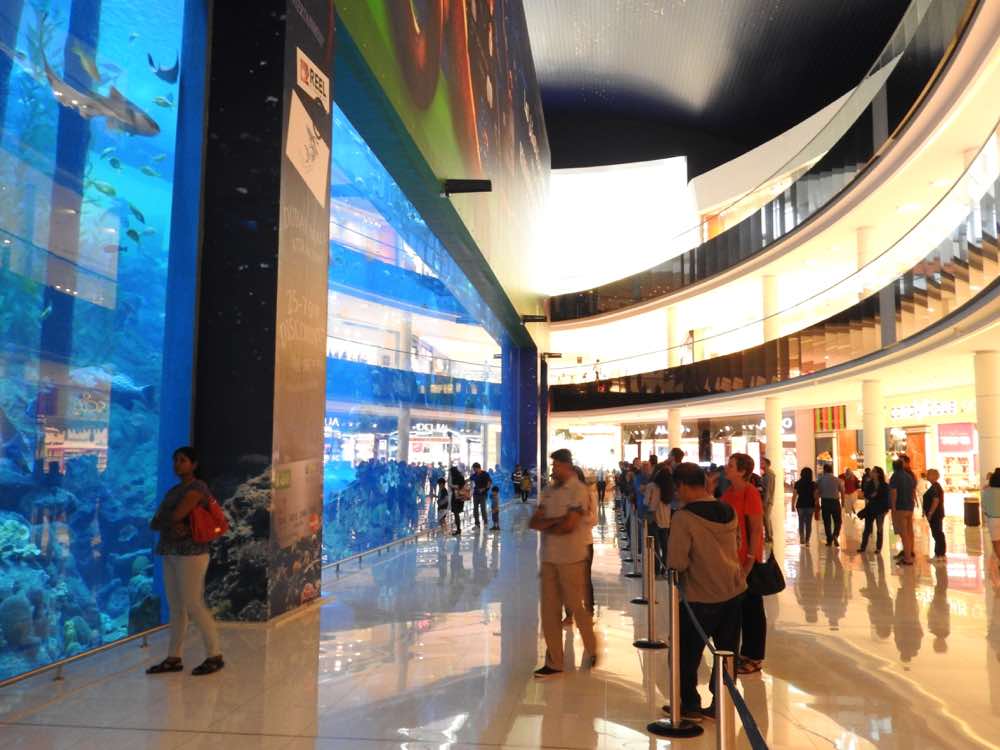 Or why not hit the slops on the indoor skip slope of the enormous Mall of Emirates. And before you wonder yourself, yes, it's real snow!
More than actually buying stuff – prices are at most, in pair with other places in the world – the experience is what makes shopping in Dubai so intriguing. The malls felt like more urban adult playgrounds than anything else.
We managed to hit both Mall of Emirates and Dubai Mall and what I enjoyed the most was definitely The Souk in the latter. Full of state-of-art stores, impeccably organised into different sections – clothing, jewellery, shoes – you can still get easily lost inside! It felt like a modern twist on the Grand Bazaar in Istanbul, where I had my first haggling experience!.
Oh and there's also a real dinosaur skeleton in the entrance of the Souk. Why? Because of reasons.
Get something in your stomach
In a city where everything can be easily overpriced, malls in Dubai are a great place to grab something to eat. The good thing about it is there's something for every taste and in every hour of the day. Obviously food courts are not the most luxurious food experience, but it will surely save you some dirhams in the end of the day.  As you can see I was clearly excited about finding a Dubai version of FANTA!  I mean who doesn't like Fanta!! 
Hope you get to fall in love with Dubai as well!
xoxo
Darbie
Darbie Angell